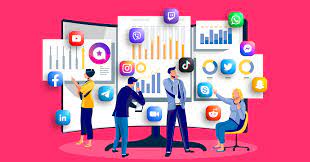 Even though B2B companies seek to sell products to other businesses, B2B marketing is still built on human relationships. Social media has long been used to help grow these relationships, but its importance accelerated last year.
Without in-person events, B2B marketers needed an outlet to connect with prospects and partners. And they found they could do this most effectively via social platforms.
By using social media, B2B leaders:
1. Build Brand Awareness
Across different platforms, companies can tell their story, why they provide the services they offer, and keep audiences updated with customer and employee stories.
If B2B leaders are able to leverage the voice of their employees, they can extend their brand reach even further. Every employee has a personal network, and each network has potentially hundreds of contacts. In turn, each of those contacts is connected to hundreds of other people. When your employees are in deep sync with their networks, they can achieve a lot, not just on social, but in real life too (e.g., create flyers, send direct mail, network at events, etc).
2. Generate Leads
Create meaningful conversations and engagement within their target industry by posting videos, news, data, and interesting trends. Not only do you build credibility with potential customers, but these strategies can result in gaining leads.
3. Nurture Leads
Social selling enables sales professionals to build relationships with leads. By leveraging their thought leadership pieces, social proofing and other content, they can help potential customers solve problems. In turn, this allows your sales team to build trust and credibility.
4. Implement Social Listening
Listen to customers and what people are saying about their company. This gives you a chance to get candid feedback about how others view your brand. It opens a window into improving the weaker areas of your business while reinforcing aspects that already resonate with people.
5. Measure Marketing Efforts
Social media platforms and management tools enable you to track key performance metrics (KPIs). You can even assign a monetary value to organic social media engagement. Earned media value (EMV) offers an idea of how much organic social engagement and reach would have cost if you paid in ads.
6. Build Brand Authenticity
Engaging on social media gives brands the opportunity to build trust with potential customers, partners and talent/employees. This is especially true if other people are promoting your brand or products/services to other people. People are almost three times as likely to trust advice or recommendations from family and friends than official brand channels.
7. Drive Thought Leadership
Social media is a great way to learn about the problems and interests of people. In turn, being on social gives brands an opportunity to drive thought leadership by solving problems. Create how-to guides, webinars and other content to help people and, in response, people could trust your brand as their source for guidance.
8. Grow Your Audience
In 2021, 4.48 billion people were using social media. Not only does social give you a window into the largest addressable market online, but it shows you what actual people talk about or like. Once you learn how to solve this market's problems with thought leadership content, you can build an audience that believes in your brand and products and services.
9. Build a Community
With planning and engagement, you can build an active community around your brand on social. You can leverage employees and customers alike to generate immediate Likes and Shares for your content so that it reaches new audiences.
10. Generate Unique Content at Scale
Social media communities can also be an excellent source of original and thoughtful content. User-generated content (UGC) and employee-generated content (EGC) can speak to brands in authentic ways, but they keep your content publishing pipeline flush with lots of fresh options.
Ultranet –
For further enquiries on any of our expertise or services, whether it is for website design & development, mobile application development, or digital media marketing, please feel free to contact or WhatsApp +6016-2032 000, email [email protected] or visit https://ultranet.com.my Thank you.