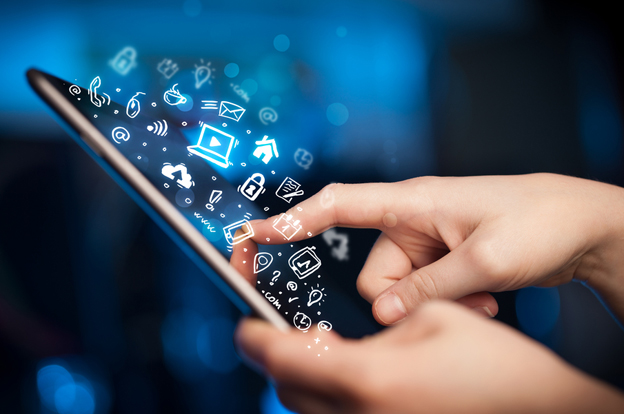 For business owners, entrepreneurs and even their employees, it is always a challenge to try to predict what a new year would bring, particularly during the COVID-19 pandemic. But we have no choice but to do our best to update ourselves with the current trend and predict the trend that will arise, even though some may be out of our expectations. We need to be the one who takes over the control in order to mitigate the impact of the pandemic by overcoming those obstacles and welcome the journey of success.
In the process of Ultranet growing ourselves in this industry, we would like to share the top 5 mobile trends that we have observed in 2020 and we expect to see in 2021.
An accelerated shift to a mobile-first lifestyle
With global restrictions on travel, entertainment and work, people are increasingly turning to mobile as a platform for the efficient completion of core tasks. We, Ultranet ourselves, consumers and even customers are now using mobile apps to read, shop, network and even work.
The shift to mobile-first has been taking place for many years, but the pandemic has exaggerated the speed of this development in 2020. The starting in March 2020 as lockdowns were eased in many markets has led to the increase of anxiety to some extent where the majority business owners and entrepreneurs started to shift to digital as they realized they have to move much faster to overcome the challenges. With that, Ultranet is here to remind all of you to alert with this lifestyle
Unpredictable spikes and trends across app stores
As people continue to adapt in 2021, Ultranet suggests that app marketers should prepare for unexpected things when it comes to new trends and spikes across the app stores. You have to ensure that our app is ready for any potential issue that leads to complaints and even crisis. For example, sudden influxes of users that can be caused by an increased drop-off.
Ultranet also recommends you to seize any opportunities by having a proactive plan to make your mobile app visible to prepare for the potential rise of the user that search for your apps in that particular category. You have to utilize app store optimization (ASO) to place keyword optimization continuously as much as possible to ensure your app can rank higher in that particular category.
Don't overlook the importance of mobile UI/UX optimization
Ultranet claims that most of you love to win, but not to lose. With that, you all have to note that you need to be outstanding by having a simple user interface and a decent user experience. .Engagement is also a must-have component of your app to provide you with a platform to connect with customers. Subsequently, you can deliver, improve your app with the features that allow you to meet your customers' expectations.
To begin with, Ultranet suggests that a concise, easy-to-use onboarding process will significantly reduce the user's drop off. New users are unlikely to consider the full benefit of your app and would be fast to uninstall your app if they feel you're asking for too many unnecessary details.
Besides, Ultranet proposes you to highlight the value of your app with easy access for new users or by providing limited access before asking users to register. With increased competition on the market, it is important to create relationships with your users by providing them with a mobile experience that is not only insightful but also engaging, intuitive and delightful.
Not only that, Ultranet believes that it is necessary to understand which channels your customers are using. For example, if you have a mobile web presence, consider guiding users from the mobile web to your app—where conversion rates are more than three times higher. One way to do this is to use smart banners on your website. The smart banner will automatically determine if the app is supported on the user's device. If this is the case, the user will either be led to the app store listing or to the app if the user already has it on their device. With proper tracking, these banners will provide useful information about how many app users come from the mobile site.
The demand for an increasingly data-transparent future
Ultranet also realized with the increasing consumer awareness and concerns around data usage. There has been a significant shift among big tech companies to be more transparent about user data. One of the significant upcoming changes is Apple's depreciation of the IDFA (Identifier for Advertisers). The app users will have to opt-in to the IDFA once it has been introduced. This also brings the meaning that the mobile apps will have to request permission to track unique user or device data, in particular device advertising identifiers. Many third-party tools, such as attribution and analytics platforms, rely on IDFA as their primary method of collecting data. With that, there will be a significant push to diversify the ways in which data is collected ahead of its depreciation. It is worth noting that some third-party solutions, such as FullStory, already have a privacy-centric model in place, which negates the effects that many other platforms are currently facing.
Ultranet also recommends you to re-evaluate the growth metrics you track. Whereas before many mobile apps were reliant on metrics that required device identification, such as Cost Per Install, testing out more advanced metrics, such as Cost Per Acquisition (CPA) or Lifetime Value (LTV), may be key to using less precise data to build out a more comprehensive picture of your users.
Using consumer-centric marketing to build user loyalty
Ultranet is unable to deny that customer's engagement is a crucial thing in their business success. You have to truly engage with your customers but not just acting because users nowadays are more likely to react positively to humour and empathetic messaging, especially during times of crisis. Therefore, it is important to consider incorporating this throughout the full user journey.
Another popular approach that Ultranet figured out is to get a personal touch with users. Customized push notifications that include a user's name and are tailored to their needs, such as search history, will go a long way to improving open rates and engaging the app. Thoughtfully tailored marketing across all platforms can help you establish long-lasting relationships with your customers.
Planning ahead for mobile app success in 2021 and the future
To remain competitive while building and maintaining a good customer relationship among this crowded app marketplace, you have to prepare proactive planning and testing not only to gain the benefits but also mitigate the impacts towards your business. An effective strategy from Ultranet is the incorporation of organic and paid growth strategies to optimise app discoverability, user engagement and, most significantly, the retention of high-value, loyal users.
Ultranet – For further inquiries on any of our expertise or services, whether it is for website design & development, mobile application development, or digital media marketing, please feel free to contact or WhatsApp +6016 203 2000, email [email protected] or visit ultranet.com.my. Thank you